ROCK Sydney (Representative Of Christ's Kingdom) is a local Indonesian community church located in the heart of Sydney, Australia. ROCK Sydney church is led by pastor Samuel Yusuf and his wife Lydia Yusuf.
Please subscribe to our Podcast to listen to powerful and dynamic teachings of the Bible or visit ROCK Sydney website for more information.


How to listen to ROCK Sydney sermon podcast?
ROCK Sydney Podcast can be accessed by a number ways:
1. Directly through iPhone and iPod Touch.
2. From your computer using iTunes and iPod
.
If you have any questions, visit our Frequently Asked Questions section.
Open Safari browser from your iPhone or iPod Touch, and browse to (all must be in lower case):
http://podcast.rocksydney.org.au/iphone

To add a shortcut to your Home Screen, (step 1) touch on the + button, and (step 2) touch "Add to Home Screen", finally (step 3) touch the Add button.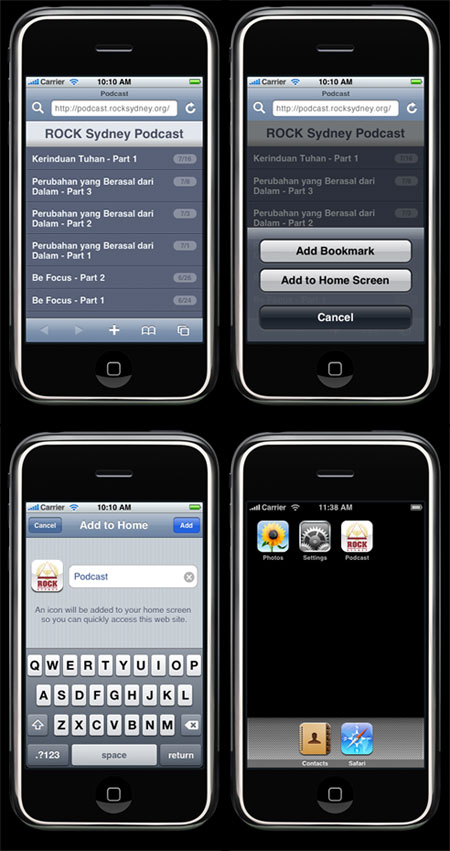 To subscribe to the podcast, search for "ROCK Sydney Podcast" on iTunes store. If you do not have iTunes you can download iTunes for free.

Step 1: Open iTunes, and click on " iTunes Store" on the left-hand-side panel.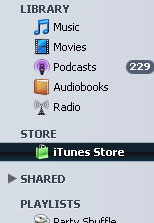 Step 2: On the top right hand corner, in the "Search iTunes Store" box, type in "ROCK Sydney podcast", click Enter.

Step 3: On ROCK Sydney Podcast page, click the "Subscribe" button to subscribe.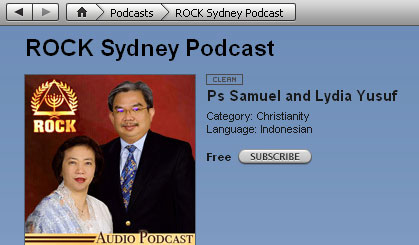 Alternatively, you could subscribe to the podcast directly with the following two easy steps:
1. On your iTunes, click on "Advanced" menu item (located on the top of iTunes), and click on "Subscribe to Podcast..."
2. Under the "URL" box, type in: http://podcast.rocksydney.org.au/RSS.xml
What is ROCK Sydney Podcast?
ROCK Sydney Podcast is where you can listen to powerful and dynamic teachings of the Bible. The sermons are recorded from ROCK Sydney church's meetings.
For more information about podcast, visit:
Podcast Frequently Asked Questions
Wikipedia - Podcast
Do I need iPod to listen to podcast?
No, you can listen to the podcast on your computer using free program like iTunes.
If you have any other questions, please use the contact us form on ROCK Sydney website.
Download iTunes
To download free iTunes software, please visit iTunes download page.
About ROCK Sydney
If you'd like to know more about us or to read our weekly sermons, please visit: Representative Of Christ's Kingdom - ROCK Sydney website